Innovations in the healthcare profession have brought about numerous wonders in patient care. Not only they improve the care provided to patients, they also make life a bit easier for healthcare professionals. One of the most recent discoveries in the field is the so-called "Bullet Wound Tampon."
Ever saw a scene on television or in the movies wherein a character gets shot, bleeds a lot and then dies because he/she can't get to the hospital fast enough?According to research, 30-40% of civilian deaths by traumatic injury are the result of hemorrhaging, and 33-56% of those deaths happen before the patient reaches a hospital.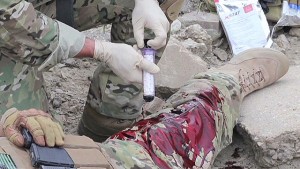 Tragic, right? Well, that can be prevented now. The revolutionary new XStat Rapid Hemostasis System, also referred to as a bullet wound tampon is said to possibly save lives of countless gunshot wound victims.
A closer view at the XSTAT Rapid Hemostasis System
The U.S. Food and Drug Administration has cleared the use of the XSTAT 30, which is an innovative sponge-filled gunshot wound dressing device, for use in the general population. The said "tampon" has been approved last year for battlefield use and can plug a gunshot wound in just 15 seconds.
When catering patients with gunshot wounds, it is best to stop the bleeding as soon as possible. The XSTAT Rapid Hemostasis System is an elastic, multi-sponge dressing that can control severe, life-threatening bleeding from wounds in bodily areas where a traditional tourniquet is of no use, (ex. groin or armpit). It works by pumping expandable, tablet-sized sponges into the wound, halting bleeding while a patient is rushed to hospital.
These standard medical sponges enlarge on contact with blood, and the dressing lasts for about four hours. Each of these applicators absorbs about a pint of blood, and up to three applicators can be used on a patient. Moreover, each tablet contains a radioplaque marker that can be spotted under an X-ray in order to assist with extraction.
Just at the right time
Many say that this innovation arrived just when it's most needed. Statistics shows that guns in the United States kill about 33,000 people annually, of which some 20,000 are suicides and 11,000 are homicides. In the year 2015, the United States has experienced 462 mass shootings. So, it's safe to say that many, especially those working in the healthcare field, are excited regarding this new discovery and its accessibility to a wider array of people, since it was originally developed for the military under battlefield conditions.
First responders can now use the device to treat adults and teens in the general population who are experiencing life-threatening and severe hemorrhagic shock.
"When a product is developed for use in the battlefield, it is generally intended to work in a worst ­case scenario where advanced care might not be immediately available. It is exciting to see this technology transition to help civilian first responders control some severe, life­ threatening bleeding while on the trauma scene," said Dr. William Maisel, the acting director of the Office of Device Evaluation in the FDA's Center for Devices and Radiological Health.
Sources: