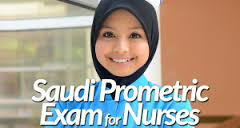 Dina is itching to go out of the country and work as a nurse abroad. She has one place in mind – the Kingdom of Saudi Arabia, but from what she has heard from fellow nurses who are also aspiring for greener pastures outside the country, she still needs to take the Prometric Exam for Nurses. Lost and clueless, a lot of questions flood her mind. How does she apply for it? What are the steps that she should take?
Prometric Exam for Nurses: An Overview
                The Prometric Examination for Nurses is the popular name for Saudi Council Examination, which assesses how competent and qualified a nurse is since, as one is aware, working in a different country demands different nursing needs of the international clients.
Prometric is a wholly-owned subsidiary of Educational Testing Service (ETS) and a trusted provider of technology-enabled testing and assessment solutions that operates test centers in more than 160 countries. The Saudi Commission mandates the existence and efficacy of this type of examination.
The exam, itself, is a computer-based test (CBT) which is composed of 70 questions in multiple-choice format which the examinees can finish in two hours. Examinees can either take the exam for Nursing Technician or Nurse Specialist – each of them have different passing rate (45% for nurse technicians and 50% passing rate for nurse specialists). The exam is comprised of the following parts:
For Nurse Technicians:
Nursing Fundamentals – 28%
Medical – 23%
Surgical – 20%
Pediatric – 16%
Community – 13%
For Nurse Specialists:
Assessment – 10%
Nursing Problem – 6%
Planning – 20%
Implementation – 50%
Evaluation – 14%
You should know that you can register online or through mail, however, your type of registration determines the mode of payment that you will be applying. For example, Major credit card companies such as MasterCard, Visa and America Express would only be accepted for online registrants, while those applicants through mail must also send the payment using the form provided as well as the payment is in a form of cheque.
Registrants in Saudi Arabia are reported to pay an Examination Fee of $80.00, while those in Asia, however, are required to pay $90 and nurses coming from Africa, Europe, North America and the Middle East are required to pay $100.
Registration Steps
First, go to the website: https://www.prometric.com
From their home page, search for or select the name of the test you want to take. You'll be brought to the "home page" for the organization whose exam it is. Click "Get started" and simply follow the on-screen instructions to complete the process. You'll go through a handful of steps that will include finding a test center where your exam is available, entering your personal information, supplying eligibility information, if necessary and payment screens.
Find Test Takers and select the dropdown list box on Academic, Professional, Government & Corporate. In here, you will need to scroll down and click Saudi Commission for Health Specialties.
A new window will appear that displays information about Saudi Commission for Health Specialties Testing and some related articles about the organization itself. Select Get Started Box and click Start.
Select the Saudi Commission for Health Specialties (Non-elig), then choose your country of residence and click Next. The other options left apply only to those who reside in Saudi Arabia.
A new window will pop out. Select Schedule an Exam and click next.
Select "I Agree on the Policy Statement" and click Next.
A new window will pop out. Two options for nurses under Exam Selection can be viewed: Nurse Specialist and Nurse Technician. For Nurse Specialist, you must have more than three (3) years of experience to qualify while for Nurse Technician, you must have at least two (2) years of experience. Other recruitment agencies and Saudi Recruitment Office (SRO) usually instruct applicants to take the Nurse Technician Exam regardless of years of experience.
Select your desired Test Center. Type the location (for example Manila) and then click Search button. The Saudi Commission for Health Specialties has granted the accreditation to these exam centers in the Philippines:
Click Schedule an Exam. In here, it is up to the applicant to select his or her preferred exam month, date and time.
You will be directed to a new window and you will need to type some additional information. Personal information such as name, address, birthday, e-mail address and a valid government identification card such as PRC ID will be required.
You will be directed to another window for the Payment process. In here, you will be required to type the necessary information under the Payment details. To proceed with the payment, you must have a credit card. You can borrow from a family or friend if you don't have one. Major credit card companies such as America Express, MasterCard and Visa are usually accepted.
Complete the payment process by typing the Card Number and the Security Code. Type in the Owner's name and the Expiration Date of the credit card. Review the details you type and then click next. The cost of the examination is usually 90 USD but this can still change. While payment methods and requirements vary by test program, in all cases payment must be made in full before your test appointment.
Click Complete Registration once your details are complete and accurate. Make sure to print the Appointment Summary or save it as PDF to print at a later time. Check your email if the Appointment Confirmation is already available and print this also. This will serve as a proof of payment and will be required once you take the examination.
Cancelling and rescheduling test appointment via Prometric website
Yes, many test appointments can be cancelled and/or rescheduled through the Prometric Web site. From the Prometric.com home page, click on the button for what you'd like to do (either cancel or reschedule). Then, simply follow the on-screen instructions which will walk you through the process, step by step
As part of the process you'll need to provide the confirmation number you received when you scheduled your exam initially, so please have it with you. If you do not have your confirmation number, please contact our customer service center.
Sources:
https://nurseslabs.com/saudi-prometric-exam-for-nurses-how-to-apply/
https://www.pefcommunity.com/threads/how-to-apply-for-prometric-exam-ksa.2443/
https://www.prometric.com/en-us/for-test-takers/prepare-for-test-day/frequently-asked-questions/pages/register-reschedule-cancel-confirm.aspx