At some point of our nursing careers, we might feel like giving up. "I can't do this anymore. Nursing isn't for me," we might say. Nursing is one tough profession. It isn't just for anybody. For one to be a successful nurse and to have a long nursing career, he/she should be determined enough as well have enough sources of motivation to stay in the profession. When the fuel runs dry, let us present you with some motivating quotes about nursing to rekindle the fire within you: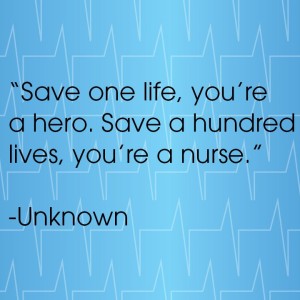 "To do what nobody else will do, a way that nobody else can do, in spite of all we go through; is to be a nurse." – Rawsi Williams, BSN, RN
"As a nurse, we have the opportunity to heal the heart, mind, soul and body of our patients, their families and ourselves. They may forget your name but they will never forget how you made them feel." – Maya Angelou
"Save one life, you're a hero. Save 100 lives, you're a nurse." – Unknown
"When you're a nurse you know that every day you will touch a life or a life will touch yours." –Unknown
"You don't build a house without its foundation. You don't build a hospital without its Nurses." – Anonymous
"Nurses have come a long way in a few short decades. In the past our attention focused on physical, mental and emotional healing. Now we talk of healing your life, healing the environment, and healing the planet." – Lynn Keegan
"You're going to be there when a lot of people are born, and when a lot of people die. In most every culture, such moments are regarded as sacred and private, made special by a divine presence. No one on Earth would be welcomed, but you're personally invited. What an honor that is." – Thom Dick
"Our job is to love people. When it hurts. When it's awkward. When it's uncool and embarrassing. Our job is to stand together, to carry the burdens of one another and to meet each other in our questions." – Jamie Tworkowksi
"Whether a person is a male or female, a nurse is a nurse." – Gary Veale
"Nursing is great for so many reasons, but there is one reason that means more than any poll results, amount of money, or job security: Nurses make a difference." – Brittney Wilson, RN, BSN
"I'm an ex-convict. I have AIDS. I'm a prostitute. I'm poor. I'm old. I'm a lesbian. I aborted my baby. I'm a teenage mom. I'm a victim of rape. I'm a drug addict. I'm alcoholic. I'm a beggar. I have cancer. I have contagious disease…but the nurse said, I'll take care of you." – Anonymous
"Nurses: one of the few blessings of being ill." – Sara Moss-Wolfe
"The nurse is temporarily the consciousness of the unconscious, the love of life for the suicidal, the leg of the amputee, the eyes of the newly blind, a means of locomotion for the infant, the knowledge and confidence of the young mother, and a voice for those too weak to speak." – Virginia Henderson
"Being a nurse isn't about grades, it's about being who we are. No book can teach you how to cry with a patient. No class can teach you how to tell their family that their parents have diet or are dying. No professor can teach you how to find dignity in giving someone a bed bath. A nurse is not about the pills or charting. It's about being able to love people when they are at their weakest moments." – Anonymous
"Nursing is an art: and if it is to be made an art, it requires an exclusive devotion as hard a preparation, as any painter's or sculptor's work; for what is the having to do with dead canvas or dead marble, compared with having to do with the living body, the temple of God's spirit? It is one of the Fine Arts: I had almost said, the finest of Fine Arts." – Florence Nightingale
We might think of giving up at some point, when that time comes always remember why you started in the first place. Live on intent rather than out of habit. When the light starts to flicker, never give up on finding ways to relight it. Nursing might be stressful sometimes, but some moments you get to experience while in the profession make it really worth it.
Sources: