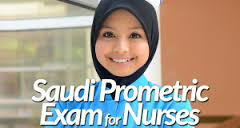 So, you've finally graduated. You survived no-sleep nights and stressful days. You've passed your local nursing board. You've claimed your license. And now, you have 3 years of hospital experience. What's next for you? Should you stay in your hospital or is now the time to try your luck abroad?
 You've been wanting to work in Saudi for months now, and you know you have to meet certain requirements to do so. One of which is to take the Saudi Prometric Exam. What exactly is this exam and what do you need to know when taking this?
An overview of the Prometric Exam
Prometric Examination for Nurses is the popular name for Saudi Council Examination. In order to ensure a better employment status in the Kingdom of Saudi Arabia, this is a priority requirement on all agencies sending nurses there.
According to the Manila Bulletin (2009), the Philippine Overseas Employment Administration (POEA) emphasized that nurses must pass this kind of exam when intending to work in Saudi Arabia to prove that even when working in foreign lands, nurses are competent enough in meeting the different nursing needs of the international clients.
This type of examination is analogous to the nursing licensure examination that nurses must pass in the Philippines. It is the Saudi Commission that mandates the existence and efficacy of this type of examination.
Exam Parts
The Prometric Examination for Nurses is composed of 70 questions in multiple choice formats. In about two hours, the examinee is required to finish the whole test set. In browsing the site of Prometric Exam, https://www.prometric.com/NurseAide/CT.htm you will find that the description for nurses belongs to the category nurse aide.
As a nurse technician the exam is made in order to comprise the following parts:
Nursing Fundamentals: 28%
Medical – 23%
Surgical – 20%
Pediatric – 16%
Community – 13%
For Nurse Specialists, there is a different way of dividing the exam. This is how it is broken down:
Assessment – 10%
Nursing Problem – 6%
Planning – 20%
Implementation – 50%
Evaluation – 14%
Passing Rates
For nurse technicians, the passing rate is 45% while for nurse specialists it is 50%. Unlike any other examinations, the rate of the examinee is readily released after the examination. It is in a form of Score Report that the examinee will know if he or she has passed the examination.
Prometric Exam Payment Procedures
Of course, certain fees must be paid when taking this exam. Registration may come in a form of online registration of through mail. Your type of registration determines the mode of payment that you will be applying.
For online registrants, take in mind that they would only accept credit card payment from major credit card companies such as MasterCard, Visa and America Express. Those who opted to send their applications via mail, they must also send the payment using the form provided as well as the payment is in a form of cheque.
According to recent reports, registrants in Saudi Arabia must pay an Examination Fee of $80.00. Those in Asia entail them to pay $90, while nurses coming from Africa, Europe, North America and the Middle East are required to pay $100.
Registration for the Exam
To apply for the Saudi Prometric Examination for Nurses, follow this step by step guide:
Go to the website: https://www.prometric.com
Find Test Takers and select the dropdown list box on Academic, Professional, Government & Corporate. In here, you will need to scroll down and click Saudi Commission for Health Specialties.
A new window will appear that displays information about Saudi Commission for Health Specialties Testing and some related articles about the organization itself. Select Get Started Box and click Start.
Select the Saudi Commission for Health Specialties (Non-elig), then choose your country of residence and click Next. The other options left apply only to those who reside in Saudi Arabia.
A new window will pop out. Select Schedule an Exam and click next.
Select "I Agree on the Policy Statement" and click Next.
A new window will pop out. Two options for nurses under Exam Selection can be viewed: Nurse Specialist and Nurse Technician. For Nurse Specialist, you must have more than three (3) years of experience to qualify while for Nurse Technician, you must have at least two (2) years of experience. Other recruitment agencies and Saudi Recruitment Office (SRO) usually instruct applicants to take the Nurse Technician Exam regardless of years of experience.
Select your desired Test Center. Type the location (for example Manila) and then click Search button.
Click Schedule an Exam. In here, it is up to the applicant to select his or her preferred exam month, date and time.
You will be directed to a new window and you will need to type some additional information. Personal information such as name, address, birthday, e-mail address and a valid government identification card such as PRC ID will be required.
You will be directed to another window for the Payment process. In here, you will be required to type the necessary information under the Payment details. To proceed with the payment, you must have a credit card. You can borrow from a family or friend if you don't have one. Major credit card companies such as America Express, MasterCard and Visa are usually accepted.
Complete the payment process by typing the Card Number and the Security Code. Type in the Owner's name and the Expiration Date of the credit card. Review the details you type and then click next. The cost of the examination is usually 90 USD but this can still change. While payment methods and requirements vary by test program, in all cases payment must be made in full before your test appointment.
Click Complete Registration once your details are complete and accurate. Make sure to print the Appointment Summary or save it as PDF to print at a later time. Check your email if the Appointment Confirmation is already available and print this also. This will serve as a proof of payment and will be required once you take the examination.
Test Center Regulations
Just like with licensure exams, there are rules and regulations you need to know and follow. Here are some:
Candidates are required to be professional, civil and respectful at all times while on the premises of the test center.
All exams are continuously monitored by video and audio recording, physical walk-throughs, and through the observation window.
The Test Center Administrator (TCA) is authorized to dismiss you from the test session for a violation of any of the Test Center Regulations, including exhibiting abusive behavior towards the TCAs or other candidates.
If you are found to have violated any of the regulations during your exam, the TCA is required to notify Prometric and your test sponsor.
Prometric, alone or in conjunction with your test sponsor, shall then take any further action necessary to sanction your conduct, up to and including invalidation of your test score and/or pursuit of civil or criminal charges.
Cancelling and Rescheduling
To cancel or reschedule test appointments, click on the button on the Prometric.com homepage for what you'd like to do. Then, simply follow the step by step instructions. The fee to reschedule an exam and the amount of time to do so without penalty varies on the testing organization. Make sure to check the procedures specific to the organization for more information regarding rescheduling timeliness and penalties.
For many certification exams, test takers are allowed to take the test as many times as they wish, though some time there is a mandatory waiting period. However, based on the new system, test takers have only three attempts to pass the Licensing exam.
Retest
For many certification exams, test takers are permitted to test as many times as they wish, though some time there is a mandatory waiting period. However, based on the new system, the practitioner has only three attempts to pass the Licensing exam.
Soures:
https://www.prometric.com/en-us/clients/nurseaide/pages/ct.aspx
https://rnspeak.com/nursing-information/prometric-exam-for-nursesthe-basics/
https://nurseslabs.com/saudi-prometric-exam-for-nurses-how-to-apply/