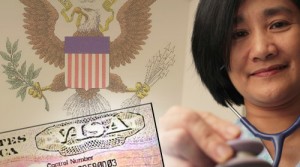 Las Vegas – A new bill has passed the US House of Representative that changes visa requirements for admission of non-immigrant nurses in health professional shortage areas.
In a forum with Asian business leaders in Las Vegas last August 15, US Rep. Joe Heck said "We just passed a bill that changes the visa requirements to allow more foreign nurses to come and stay in the country."
The bill, House Resolution 1933 (HR 1933) states, "A non-immigrant alien…who was previously issued a visa or otherwise provided non-immigrant status…is authorized to accept new employment performing services as a registered nurse…upon the filing by the prospective employer of a new petition on behalf of such non-immigrant."
"Employment authorization shall continue for such alien until the new petition is adjudicated. If the new petition is denied, such authorization shall cease," the bill adds.
The Bill which amends the Immigration and Nationality Act, was passed in the House last August 1 and has been forwarded to the Senate for deliberation.
Apparently, US Rep. Joe Heck used to work at the Emergency Room of the University Medical Center (UMC) in Las Vegas. He said that "There is a large Filipino nurse population at UMC."
According to statistics, there is an estimated 2000 Filipino nurses living in Las Vegas, a large percentage of which come from the Philippines.
"(Nurses) would come to the US on a visa that is tied to their job at a particular hospital. We are trying to change that," Heck told the discussion organized by the Las Vegas Asian Chamber of Commerce.
The new bill is expected, not only to help improve healthcare delivery, but generate businesses and job opportunities, Heck noted.
"Everything we do is aimed at trying to revamp the entrepreneurial spirit," the congressman said at the discussion.
Source: AsianJournal.com